Will Anders Mol and Christian Sorum make it happen again? 
Mol and Sorum have continued to find ways to win, over and over and over again
Published 07:00, 18 Sep 2021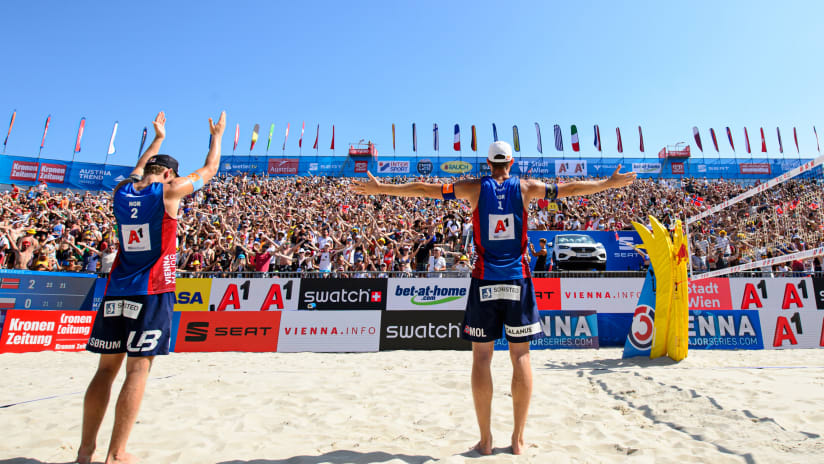 Anders Mol and Christian Sorum found a way to win consecutive events in Cancun, despite going to three sets in five matches (this is a high number for the Norwegian Vikings).
They found a way to win gold in Tokyo despite enduring one of the coolest stretches of their precocious careers in the events immediately preceding it (their cool stretch is, of course, not cool by any standard other than their own).
They won gold in Tokyo despite every team in the world suddenly changing their strategy in terms of how they played them. They won despite losing in pool, even almost losing twice. They won gold despite having to play the very team, Konstantin Semenov and Ilya Leshukov, who took their top spot in pool.
Then they won gold again, in Vienna, for a fourth consecutive European Championship. Again, they found a way. They found a way despite seeing Semenov and Leshukov again, and again finding themselves down one set. They found a way despite dropping the first set in the semifinals to Alex Brouwer and Robert Meeuwsen. And they found a way, one final time, in the finals, to defeat young Stefan Boermans and Yorick de Groot. They found a way despite trailing 8-11 in the third set and de Groot siding out almost perfectly.
For four years now, Anders Mol and Christian Sorum have almost always found a way to win. In a little over two weeks, they'll have one last opportunity in 2021 to do so: The World Tour Finals, in Cagliari, Italy.
This year, however, it won't be 2019 winners Viacheslav Krasilnikov and Oleg Stoyanovskiy who could play the foil, but fellow Russians Semenov and Leshukov. While the Olympic silver medallists will not be competing in Cagliari, Semenov and Leshukov, who finished fifth in Tokyo, will be. The burgeoning rivalry between Norway and Russia has been a fascinating development: they have played six times since 2018, with Norway winning five. The most recent three, however, have all been close.
It isn't just Russia, of course, who could topple the Vikings. The hottest team of 2021, Qatar's Ahmed Tijan and Cherif Younousse, are as likely a candidate as any to supplant Norway atop the podium.
In nine tournaments thus far in 2021, Ahmed and Cherif have medalled in seven, including a bronze in Tokyo, the first Olympic beach volleyball medal for Qatar. The Czech Republic's David Schweiner and Ondrej Perusic weren't too far off of Qatar's pace, in terms of having a breakout year. But a positive COVID test in Tokyo all but eliminated their chances of breaking pool, leaving the Czechs with one final major tournament to win: World Tour Finals.
"We will fight to the end," they said after the Olympics.
World Tour Finals is just a few weeks away.