The 2021 edition of the FIVB Volleyball Women's U20 World Championship will take place in Rotterdam, Netherlands and Kortrijk, Belgium from July 9 to 18. The competition will take place over eight days with two rest days.
The participating teams will first be divided into four pools and will play a round-robin tournament (Pools A to D).
Pools A and C will be played in Rotterdam, while Pools B and D take place in Kortrijk. Co-hosts the Netherlands head Pool A which also includes Brazil, Argentina and Rwanda. In Pool C, Turkey will play Russia, USA and Thailand.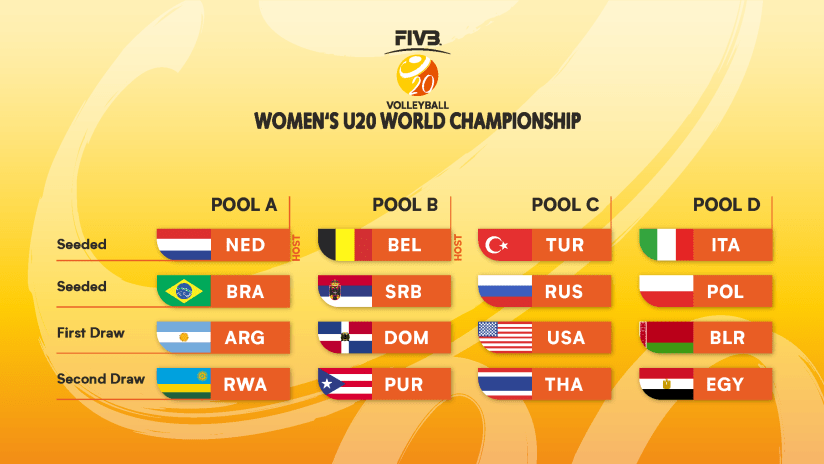 The top two teams from each pool will then be split into two further pools of four (Pools E and F), with the bottom two teams from the first round also divided into two pools of four (Pools G and H).
The top two teams from Pools E and F will then qualify for the semifinals and finals, with the bottom two facing off in a playoff to be classified from fifth to eighth. The top two from Pools G and H will have a playoff for the ninth to 12th classification with the bottom two teams from the same pools moving onto a playoff for 13th to 16th.
The FIVB endeavours to ensure the participation of all sixteen qualified teams in the 2021 FIVB Volleyball Women U20 World Championship.
In view of the travel ban imposed on countries in Belgium's high-risk list, the Belgium Volleyball Federation has explored all avenues in an attempt to secure an exemption for entry for Team Argentina, Team Brazil and Team Russia, without success. As such, the FIVB, in alignment with the Organisers, has amended the original pool composition (drawn during the drawing of lots ceremony on 14 June 2021) accordingly.