Slovenia, France complete Men's VNL Final Four puzzle
Brazil v France, Poland v Slovenia on Saturday; Canada knock out Serbia
Published 01:05, 24 Jun 2021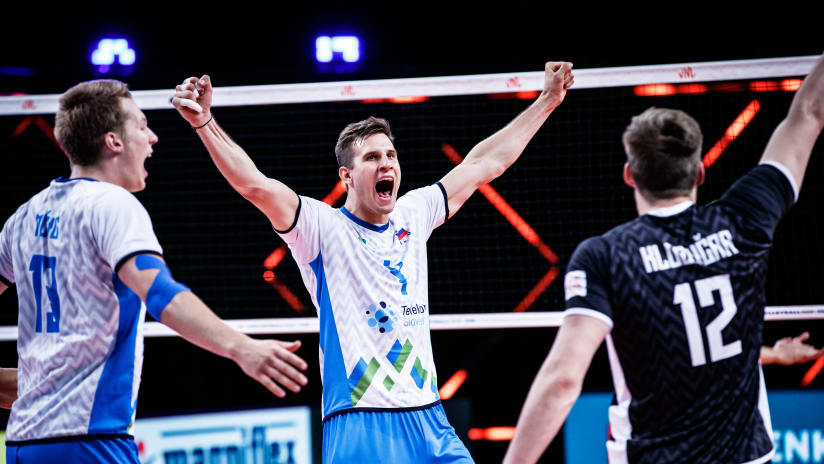 The semifinals of the 2021 FIVB Men's Volleyball Nations League are set, as pool play wound up on Wednesday night.
It was an intriguing turn of events as the day played out at Italy's Adriatic resort of Rimini.
Serbia started the day in contention for a Final Four berth (even on slim hopes), but were knocked out by Canada after blowing a two-set lead. Already trailing France and Russia on points, Serbia could no longer compete for a spot in the semifinals.
Then, France edged reigning world champions Poland in five sets worthy of the fame of the two sides. For Poland the loss didn't mean much, but for France the win meant getting beyond the reach of either Slovenia or Russia on points or set ratio, should it come to a tie on matches won.
| Date | Time (local, GMT+2) | Semifinal |
| --- | --- | --- |
| Saturday, 26 June | 11:30 | Brazil vs France |
| Saturday, 26 June | 15:00 | Poland vs Slovenia |
France and Poland came out in full strength - both in their artillery and in the rearguard, providing an entertaining match decided in the end by who probably needed the win more desperately - though there were plenty of errors on either side: Poland conceding 35 and France 33.
Poland coach Vital Heynen started all five sets with the exact same lineup, but Laurent Tillie put in Trevor Clevenot for Jean Patry, Antoine Brizard for Benjamin Toniutti and Stephen Boyer for Kevin Tillie to start the fourth and fifth sets.
In the end, Earvin Ngapeth and Wilfredo Leon shared the match high of 18 points - the latter including all three of Poland's aces.
Slovenia then followed suit, claiming what was by then the last remaining ticket to the Final Four, defeating Bulgaria in straight sets to go 12-3 and tie with Poland in second place - though Poland ranked above them on points.
It was a bit of a slow start for Slovenia, who had to come from behind to take the first set - Jan Kozamernik putting the last ball away on Slovenia's first sideout opportunity at set point.
For captain Tine Urnaut, who celebrated his 200th cap with the Slovenian National Team, it was an extra special occasion.
Toncek Stern with 13 points was top scorer of the match, with young Rok Mozic who started in the third set replacing Urnaut also leaving his mark on the game with 10 points (8/10 for 80% in attack) including two blocks.
Earlier in the day, plagued by fatigue and injuries, a top blocking performance by Canada for 19 points (six by Steven Marshall who played the last three sets, plus another five by Lucas Van Berkel) and resistance to Serbia's serving was just a little too much for the Balkan side.
Ryan Sclater contributed 17 points for Canada, but the match high of 20 came from Serbia's Marko Ivovic.
By the time Brazil and Russia came to play the very last of 120 matches of pool play, the result had become irrelevant. Whatever happened, Brazil were guaranteed first place (after the defeat of Poland earlier) and Russia could no longer defend their title (after the wins earlier of France and Slovenia).
Neither seemed under too much pressure - Brazil probably conserving energy for Saturday's semifinals, Russia already eliminated.
Brazil coach Carlos Schwanke brought on all of his second six for the third set.
Eventually, it was Maxim Mikhaylov who produced the match high of 14 points - but it was all in vain for Russia, who were eliminated by one hundredth of a point in set ratio to France. Both teams were tied on 11 wins and 34 points, but France had a set ratio of 1.86 (41-22) to Russia's 1.85 (39-21).
In other VNL action on Wednesday, Nimir Abdel-Aziz was back in action and scoring 17 points to lead the Netherlands in their straight-set win over Australia.
The Dutch opposite reached a total of 264 points in 15 matches and still leads the table of the tournament's overall best scorers 49 points ahead of Slovenia's Klemen Cebulj who scored 7 against Bulgaria, but still has two matches to play.
And USA made absolutely no substitutions as they beat Japan in straight sets despite giving away 24 points on unforced errors. Torey Defalco came up with the match high of 15 points (including four blocks, on par with Max Holt).
USA's 8-7 finish for 7th place in the final ranking is their lowest in the three editions of the VNL after a bronze medal in 2018 and a silver in 2019.
It took Argentina 2 hours 24 minutes in four sets to beat Iran, as both countries fine-tune their squads ahead of the Tokyo Olympics, with Bruno Lima collecting the match high of 24 points.
Italy also finished the tournament on a high note, edging Germany 3-2, with Alessandro Michieletto reaching a match high of 22 points (including three blocks and two aces).
It brings the young Italians to an enviable 7-8 record (on par with Canada, Argentina and Japan) and 10th place in the final rankings.