France get fairy tale ending in Tokyo
Relive France's golden moments at the Olympic Games
Published 07:00, 15 Aug 2021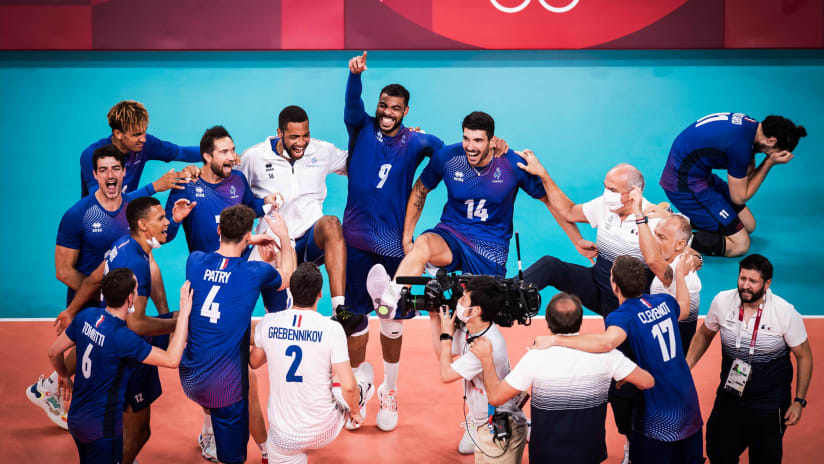 France coach Laurent Tillie describes his team's Olympic Games Tokyo 2020 adventure as a 'fairy tale'.
This is a moment of magic. It's a dream come true, and I think everybody agrees with me that it's a fairy tale. It's been a fairy tale since the beginning.

Laurent Tillie
Like a fairy tale, the story tells of a compelling journey featuring numerous twists and turns, and challenges as the team's protagonists prevail against the odds.
France began their journey in Tokyo with a straight-set defeat against the United States. They bounced back with a 3-0 victory against Tunisia, but in their third match suffered a heart-breaking loss to eventual bronze medal winners Argentina after leading in the tie-breaker. In their fourth match, they handed ROC their first loss in the preliminary round.
On the final day of the preliminaries, France were tied with the United States and Argentina in number of wins and were on the brink of elimination. They earned fourth spot in Pool B by claiming one point in their tough 3-2 loss to Brazil and eventually finished with a two-point edge over USA who lost to Argentina in straight sets later in the day.
Their first opponents in the next stage of the competition were Poland, who were led by high-scoring duo Wilfredo Leon and Bartosz Kurek. The Frenchmen led by Jean Patry and Earvin Ngapeth helped their side bounce back in the fifth set and deny the world champions to move to the final four.
In their semifinal encounter with Argentina, Patry and Trevor Clevenot's guaranteed their team's place in the gold medal match as they outscored the tandem of Facundo Conte and Bruno Lima in their straight-set victory.
In the final, they were confronted with strong resistance from ROC. France had a 2-0 start in the match but were later forced to play a tiebreaker as ROC regained their composure in the match.
The final set went down to the wire, but in the end, Antoine Brizard's masterfully crafted plays for Ngapeth, Clevenot, Patry and Nicolas Le Goff sealed their victory and historic Olympic gold.
It's an indescribable feeling. The competition didn't start the way we wanted but we managed to pull through and make history

Benjamin Toniutti
"This will remain forever in our minds. We all had hopes of getting this kind of result, and we are extremely happy for the whole group, and for Laurent, who finishes his adventure with our team. This is a real gift to share together."
Tillie, who has been with the team for nine years, completed his mission on a high.
"Over the past nine years we had joys and pain, but we remained focused on this goal. Winning the final against the great team of ROC, three sets to two, this gives us huge satisfaction," Tillie said.
"It is a bit embarrassing because my leaving is nothing special. Coaches come and go. It was important to be together with these players. They have given me so much. I leave with a happy and full heart. They have a long way ahead of them with many more titles to come."
The French head coach was proud of his achievement with the team, and said he hoped the victory would help boost the sport in France.
"The gold is an incredible way of showcasing volleyball in France. We have girls and boys who see this sport, a wonderful, spectacular game, and a mental game as well because you can't give up. It is renowned in the whole world. It is a global sport, and in France we might have forgotten that a little bit. This is what we are doing against that."
France's gold medal-winning team returned home to a heroes' welcome on Monday, celebrating with the fans at the Trocadero in sight of the Eiffel tower, which will also serve as the backdrop for the beach volleyball tournament at the Paris 2024 Olympics.
The adventure continues for the French team, and they have three years to prepare for their Olympic title defence in Paris.