Success is a team effort for Koga
The 25-year-old helps Japan hit full stride
Published 06:00, 12 Jun 2021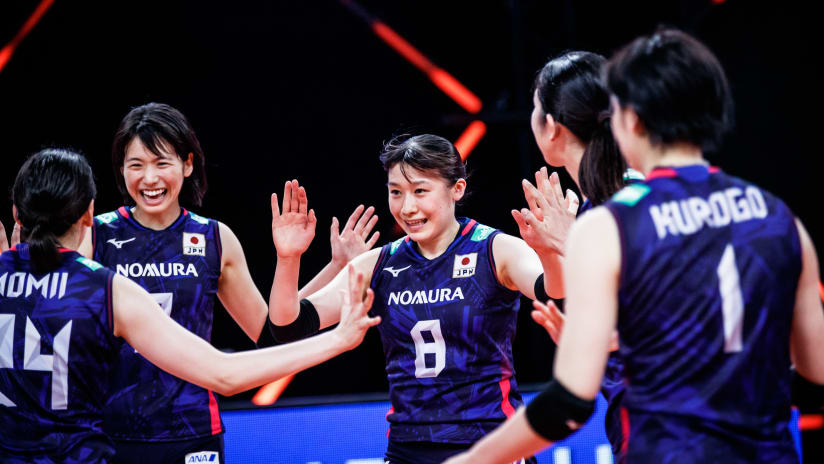 Outside hitter Sarina Koga is embracing her role as Japan's scoring leader in the 2021 FIVB Volleyball Nations League.
A standout in her youth and junior years, Koga is also a key player for the senior national team since joining in 2013, following Japan's bronze medal win at the London 2012 Olympic Games. Her addition to the team added power to a strong line-up of hitters headed by Saori Kimura, Risa Shinnabe and Saori Sakoda.
Koga has spent eight years with the national team and in the last few years, she has won silver at the 2015 Montreux Volley Masters and a gold medal at the 2017 Asian Championship, where she was named Most Valuable Player.
With her contemporaries taking a step back from their roles, Koga is doing the opposite as she is leading the charge for Japan in offence, along with young hitters Mayu Ishikawa and Ai Kurogo. And the results have been rewarding for the Asian squad as they have won seven of their nine matches so far at the 2021 VNL.
Koga has been pacing the team's offence and her teamwork with a young batch of hitters has been dynamic. But the 25-year-old does not take lone credit for her incredible performance in the tournament and says everyone has taken their part in the good run.
"We got this far because someone in the team is receiving well, someone is setting well to me and the other hitters, so we can score," Koga said.
"I feel that everyone is making an effort and that is what's making us get that rhythm going in each match."
And it's not just about her scoring leadership but the motivation that they get from their captain Erika Araki.
"Captain Araki (Shinomiya) is so kind and she gives us a lot of words of encouragement. She takes a lot of initiative to talk to us and she has those gentle eyes all the time."
Japan had two tiebreakers in the tournament and on both occasions posted comeback wins. They rallied from two sets down to win against Poland on June 8.
"We are really happy to have won this game and we enjoyed playing these five sets. The decisive factor was that we played as a team, not as individual players. We were a unity."
Success is a team effort and Japan's motivation at the VNL is in high gear as they are hitting their full stride.
"Our motivation is to win. That is our mindset in training and in matches. Focusing on winning in training brings out the best in everyone and we work on that to happen in matches too."