Muserskiy as opposite in Russia's VNL roster
Coach Sammelvuo announces 15-men selection for upcoming competition
Published 05:46, 18 May 2021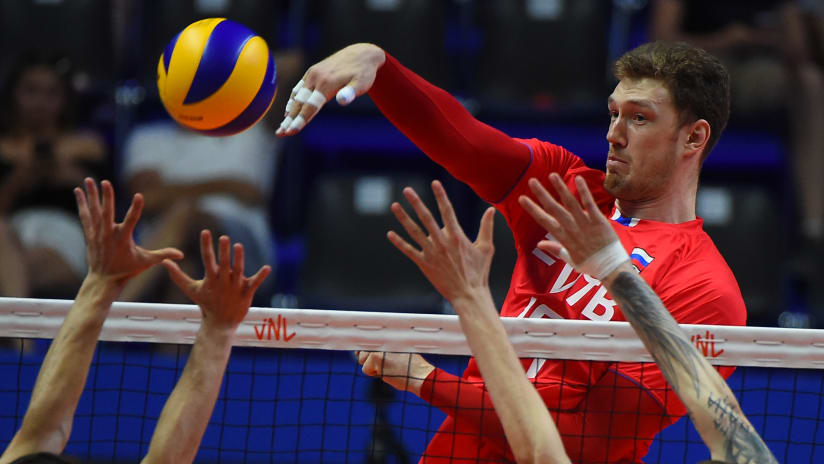 Universality of Muserskiy and Mikhaylov
Other VNL Dream Teamers to compete for Russia in 2021
15 players to compete in Rimini
Russian men's national team coach Tuomas Sammelvuo has named 15 players selected to represent the country at the upcoming FIVB Volleyball Nations League 2021.
2.18m-tall Dmitriy Muserskiy, who usually plays as a middle blocker for Russia and was on the 2018 VNL Dream Team as such, has been listed as an opposite. He was the best attacker of the VNL 2018 Finals. Muserskiy competes in the opposite position in his club team in Japan and, of course, history remembers the London 2012 Olympic final, when he switched from middle to opposite at two sets behind to lead Russia to a glorious comeback and the Olympic gold.
Maxim Mikhaylov, the Most Valuable Player of VNL 2018 and the best spiker of the Rio 2016 Olympics, is also among Sammelvuo's choice of opposites, but has the qualities and the experience to help the team as an outside.
Two other VNL Dream Teamers from Russia's gold medal squads in 2018 and 2019 are on the list as well – outside hitters Dmitry Volkov (on the VNL Dream Team in both 2018 and 2019) and Egor Kliuka (the best server of VNL 2019 and of the VNL 2018 Finals). And so is middle blocker Artem Volvich, who was named on the Dream Team at the 2016 Olympics.
Middle blocker Ivan Iakovlev, a VNL 2019 Dream Teamer and the best blocker (statistically) of the 2019 FIVB Volleyball World Cup, will skip VNL 2021 because of a recent ankle injury he sustained during national team practice. However, he remains within the coach's plans for the Olympic Games.
This also applies to experienced setters Alexander Butko, a 2012 Olympic champion, and Sergey Grankin, Russia's captain at their last official competition, the 2019 World Cup. They too will not travel to Rimini, but may be called upon for Tokyo 2020, according to national team manager Sergey Tetyukhin.
Russia will start their VNL 2021 campaign in Rimini against the Netherlands on May 28 and will then take on Iran, Japan, USA, Australia, Poland, France, Canada, Slovenia, Serbia, Argentina, Bulgaria, Germany, Italy and Brazil, in that order, in a quest to reach the Final Four on the way to a third consecutive title.
Setters:
Igor Kobzar, Pavel Pankov
Opposites:
Dmitriy Muserskiy, Maxim Mikhaylov, Victor Poletaev
Outside hitters:
Anton Semyshev, Denis Bogdan, Dmitry Volkov, Egor Kliuka, Yaroslav Podlesnykh
Middle blockers:
Artem Volvich, Ilia Vlasov, Ilyas Kurkaev
Liberos:
Evgeny Baranov, Valentin Golubev