Longtime Dominican star Vargas is not slowing down
The middle blocker will celebrate her 40th birthday during the Tokyo Olympics
Published 02:39, 14 Jun 2021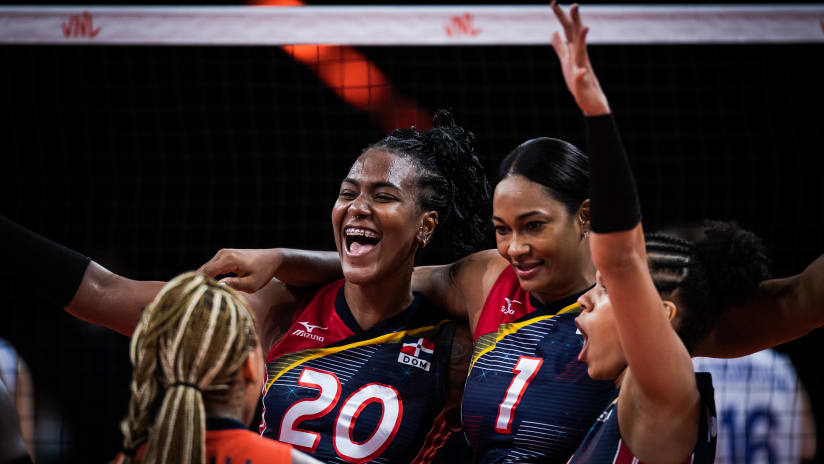 Dominican veteran Annerys Vargas is a player who has remained at the top of her game deep into her career.
One of just three players at the 2021 FIVB Volleyball Nations League who appeared at the Athens 2004 Olympics, alongside teammate Prisilla Rivera and Korea's Songyi Han, the 39-year-old Vargas has been one of the faces of 'Las Reinas del Caribe' (The Queens of the Caribbean, in Spanish) for over two decades.
A 2009 FIVB Volleyball World Grand Champions Cup bronze medallist, the 1.96m-tall middle blocker remains a key player for the Dominicans as she continues to produce points for the team as she did earlier in her career. But she now also provides a calming, experienced presence for the younger players.
Vargas doesn't rely on her experience to earn a spot in the team, however, opting instead to set the example with her hard work.
"I still feel great physically and in terms of motivation it is and will continue to be a huge honour to be part of the national team," Vargas commented. "I believe hard work always brings rewards and the only way for me to keep playing after so long is by working hard. I spend a lot of time in the gym preparing my body for the matches and I've been feeling really well."
One of the most accomplished players in her country's volleyball history, Vargas, who was selected as the best in her position at the 2008 Olympic Qualification Tournament, the 2010 FIVB Volleyball Women's Club World Championship and the 2017 FIVB Volleyball World Grand Prix, is set to make history again when she participates in the Olympics for a third time in Tokyo in less than two months.
Vargas, who was also at the London 2012 Games, has the potential to create really special memories in her third Olympic participation. She will also celebrate her 40th birthday on August 7, just a day ahead of the medal matches in Tokyo.
"It will be amazing to represent my country at the Olympics for the third time. It will be fantastic to spend my birthday there but it would be even better if I could receive an Olympic medal as a birthday present. We are working on it."