Wallace ends time with Brazilian national team
The 34-year-old opposite announces his retirement from international volleyball
Published 07:55, 16 Aug 2021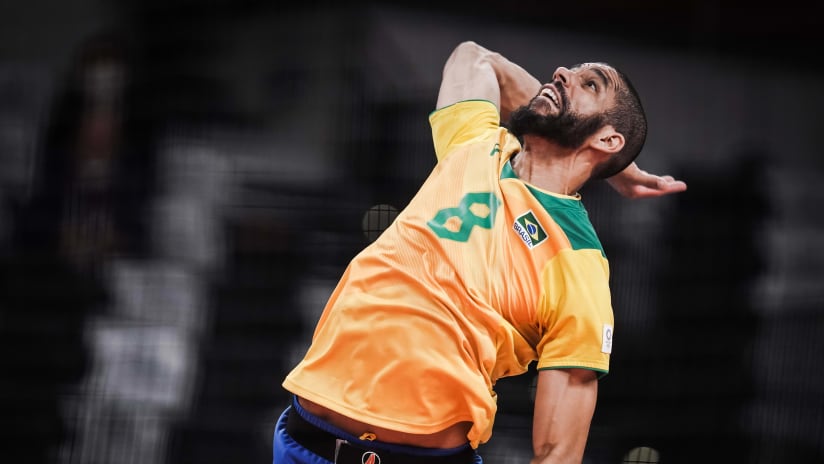 Star opposite Wallace de Souza announced his retirement from international volleyball following the Olympic Games Tokyo 2020 last week.
In a social media post, Wallace explained his decision to end his international career after being part of the Brazilian roster for the last 11 years. A three-time Olympian, Wallace won gold in Rio, in 2016, and silver in London, in 2012, before finishing fourth in Tokyo.
"I'm leaving the national team with a heavy heart," he said. "It was a difficult decision to make but at this time I need to prioritise the time I spend with my family and the future of my career at a club level. I'm honoured to have spent 11 years with the national team and I leave with the feeling that I gave all I could during this time."
A U21 world champion in 2007, Wallace also helped Brazil win the 2013 and 2017 editions of the FIVB Volleyball World Grand Champions Cup, the 2010 FIVB World League, and silver medals at both the 2014 and the 2018 FIVB World Championships.
Wallace, who will play for Sada Cruzeiro Volei in the Brazilian Superliga during the 2021-2022 club season, was also a key name in Brazil's recent victory at the 2021 FIVB Volleyball Nations League, when he received the Most Valuable Player award alongside Poland's Bartosz Kurek, as well as one of two Best Opposite awards.
Brazil head coach Renan Dal Zotto has already announced the 14 players who will be part of the team for this year's South American Championship, which will take place in Brasilia from September 1-5. They are setters Bruno Rezende and Fernando 'Cachopa' Kreling, opposites Alan de Souza and Aboubacar Neto, outside hitters Ricardo Lucarelli, Joao Rafael Ferreira, Gabriel Vaccari and Adriano Xavier, middle blockers Lucas Saatkamp, Isac Santos, Flavio Gualberto and Cledenilson Souza and liberos Thales Hoss and Maique Nascimento.