Ostrava Lessons Learnt: There's a new depth to the top tier in women's beach volleyball 
Kelly Claes and Sarah Sponcil's rise, among others, makes it an interesting debate as to who is the best team in the world
Published 09:20, 08 Jun 2021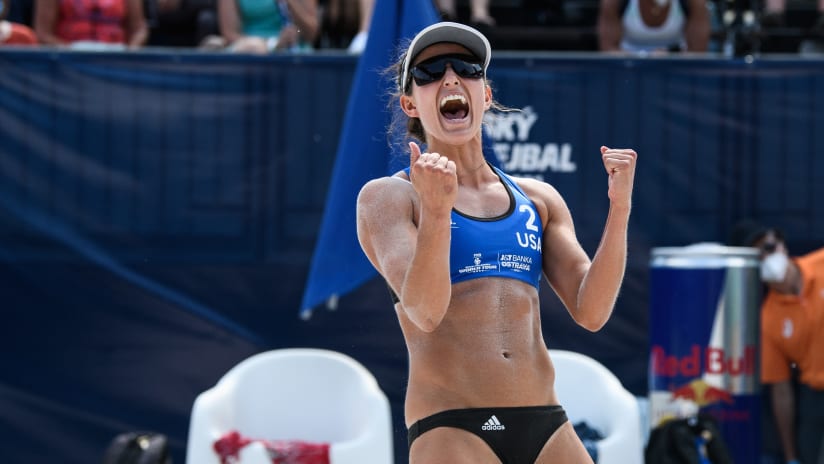 Who is the best women's beach volleyball team in the world?
For the first two years of this Olympic quad, this was, for the most part, a two-team debate. Choose your corner: April Ross and Alix Klineman, or Melissa Humana-Paredes and Sarah Pavan?
Throughout the 2019 season, there wasn't a single stretch of more than two tournaments in which one of those teams wasn't competing for a gold medal. Other teams could contend, of course, could beat either one of them on any given day. But it was always a bit of a surprise, when one or both fell short of the medal rounds.
The opening act of the 2021 season, in Doha, followed that script. There were Ross and Klineman, playing Humana-Paredes and Pavan in the finals, another clash of beach volleyball's titans.
In the five tournaments since?
They've combined to win three medals – two bronze, one silver -- but no gold. For any normal pair of teams, this would be astounding success. And it is. But again: these two were, and are, transcendent in their success as teams, as rivals. They are not normal. For the entirety of this quad, they were on a tier of their own at the top of the world.
That mountaintop has quickly become crowded, and for the best of reasons. It hasn't been a falling of Ross and Klineman and Humana-Paredes and Pavan that has caused an influx of new teams on the podium, but a quick and staggering rise from a glut of teams who had been close, so very close, to breaking through.
With their gold medal in Ostrava, Sarah Sponcil and Kelly Claes have now won back-to-back gold medals, after playing 100 tournaments without winning one gold medal. They've done so by winning 12 straight matches, clinching their bid to the Tokyo Olympics.
In Cancun, Talita Antunes and Taina Lima won their first gold as a team in nearly a decade. Mariafe Artacho and Taliqua Clancy won gold. Agatha and Duda won gold.
Young Russians Svetlana Kholomina and Nadezda Makroguzova have medaled twice.
Six different countries, in this short season alone, have made a final.
There is incredible volleyball being played.
So: Who's the best in the world?
Whomever you pick, you have a legitimate case. Is it Claes and Sponcil, winners of two straight, with a unique offence and an indomitable defence? Is it still Ross and Klineman, with the lengthiest resume? Is it Pavan and Humana-Paredes, with their abundant success? Is it Agatha and Duda, with their remarkable consistency? How about the Aussies, who haven't played much, but when they do – watch out, for they're coming for the podium.
It is a fun, and very legitimate, debate now, and it couldn't come at a better time, with the Olympics now just two months away.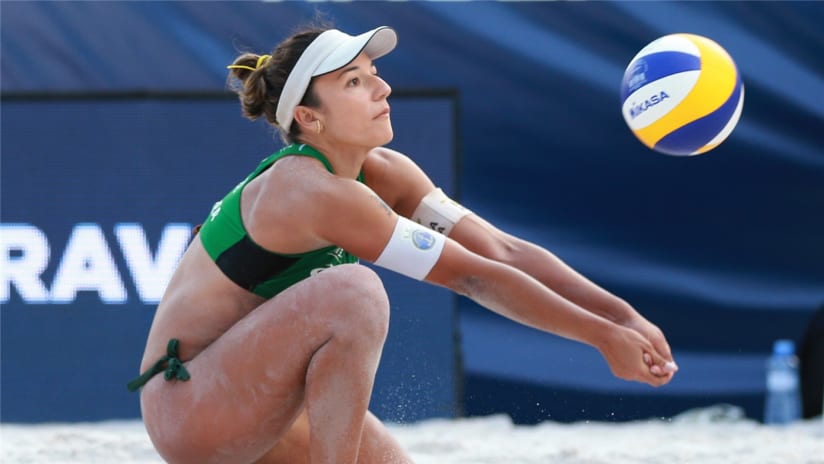 Barbara and Carol return to the podium
Barbara Seixas was once at the top of the beach volleyball world. So was Carolina Salgado. They've won dozens of medals on the FIVB Beach Volleyball World Tour. Barbara has won an Olympic silver. Both fell just shy of qualifying for the 2021 Olympic Games – Salgado with Maria Antonelli, Seixas with Fernanda Alves.
They teamed up, beginning in the most difficult of circumstances: country quotas and qualifiers. It's a brutal consequence of competing for a deep federation, yet over time, it almost always works out: the best teams inevitably rise to the top.
Seixas and Salgado are already rising to the top, and quickly, too.
In their sixth tournament as a team on the World Tour, Seixas and Salgado won a bronze medal in Ostrava, beating a host of excellent teams to do so.
Though they are not competing for a berth in Tokyo, the Brazilian reload for Paris 2024 seems to have already begun.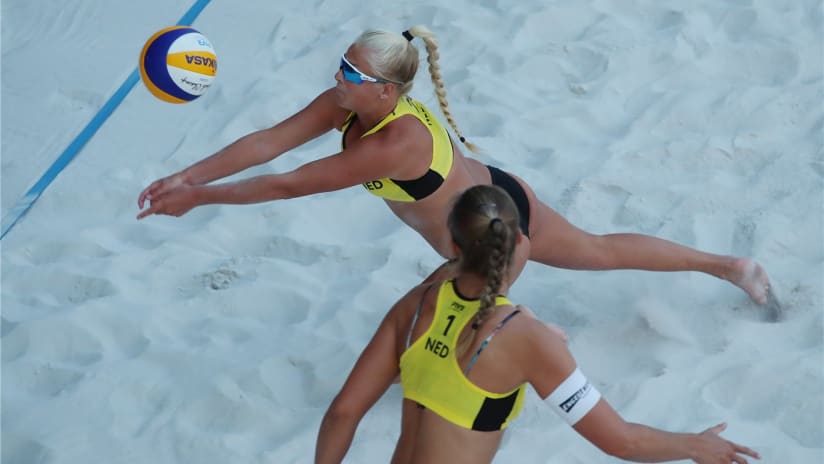 Raisa Schoon, Katja Stam emerging as a consistent medal threat
When Jordan Cheng, the coach of Kelly Claes and Sarah Sponcil, saw his team's draw in the qualifier for the Doha four-star back in March, he knew, though they'd have to play the 16-seed, that it was no easy draw. In the final round of the qualifier, Claes and Sponcil would see Raisa Schoon and Katja Stam, a precocious Dutch team of just 19 and 22 years old, respectively. Stam, he said, is quickly on her way to becoming one of the best blockers in the world.
Standing 6-foot-4, she's already hand-setting. Left-handed, she's able to option as well as anyone. Schoon, with impeccable ball control and remarkable consistency, is the ideal partner for such a block.
Cheng was, as he typically is, prescient in Doha. Claes and Sponcil needed a pair of comebacks in the second and third sets to beat Schoon and Stam in the Doha qualifier. They've played in five tournaments since, the Dutch, qualifying for three. They took a ninth in Cancun, beating Mariafe Artacho del Solar and Taliqua Clancy and Claes and Sponcil in back-to-back matches.
But their best performance to date came in Ostrava. In the Czech Republic, they ended the American Olympic race with a win over Kerri Walsh Jennings and Brooke Sweat in the final round of the qualifier. They challenged Melissa Humana-Paredes and Sarah Pavan, pushing them to three sets in the first round of pool. They knocked out Italian Olympians Viktoria Orsi Toth and Marta Menegatti. They put together a convincing win over Brazilians Agatha and Duda, 21-17, 21-15. Then they challenged Humana-Paredes and Pavan once more, again going to the third set in the quarterfinals.
They took a career-high fifth-place finish in a four-star in Ostrava, a finish that will more than likely become the norm sooner rather than later.
They may not be the highest seed in any tournament, but Cheng was right: this young Dutch team is no easy draw.